He's notoriously wicked. She's a wallflower guarding her heart.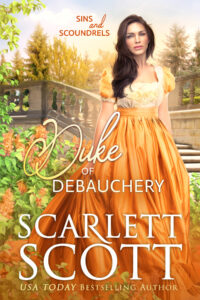 Read for FREE with Kindle Unlimited!
The Duke of Montrose has perfected the art of being a scoundrel. Mistresses? He's had an endless procession of them. Gin-soaked nights? He's experienced more than he can count. He'll do anything to distract himself from the demons of his past. Until the day his devil-may-care ways leave his best friend gravely injured. Now, he's determined to make amends at any cost. Fortunately, he knows just where to begin.
The Honorable Miss Hattie Lethbridge is quite happy being a wallflower, thank you very much. She would far prefer to spend an evening curled up with her cat than whirling about a ballroom. When her brother's scapegrace friend, the Duke of Montrose, proposes they marry, she is equally determined to refuse his suit.
The more she denies him, the more resolute Monty is that Hattie must be his. Much to her dismay, Hattie finds herself warming to the wickedest duke in London. But Monty is keeping dangerous secrets, and when Hattie discovers what he's been hiding, any hope for a future together may be forever lost.