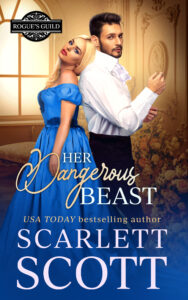 A royal prince exiled from his country long ago, Theo St. George forged a new life in London's dark and seedy underworld. As a coldhearted mercenary, he's willing to do anything for a price. But when he accepts a position as bodyguard to a duke in danger, he finds his true opponent in the nobleman's prim and icy sister.

Pamela, Lady Deering, has been forced to accept her brother's generosity after the death of her wastrel husband. One of society's irreproachable pillars, the last thing she needs is to dally with a sinfully handsome bodyguard called Beast. Neither her battered heart nor her good reputation can survive yet another rogue. So why can't she resist him?

Living beneath the same roof, Theo and Pamela are destined to clash. And kiss. And clash some more. But surrendering to their fiery passion has greater consequences than either of them realize. Because when desire turns to love, two hearts and a kingdom are at risk.