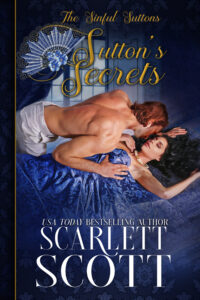 Logan Sutton lives in the shadowy underworld of London, rooting out evil before it can strike. He's a nameless enigma prowling the streets to keep the innocent safe. His next mission? Seducing a beauty with ties to the villains he's out to destroy. It ought to be simple. Learn her secrets and then never see her again. And yet, there's something about the midnight-haired temptress that won't allow him to walk away.
Lady Arianna Stewart is living a lie. Forced to do her father's bidding to give her sister a chance at a future, she has no choice but to sell the secrets of dangerous men. She never imagined she'd fall for a charming mercenary along the way, but one wicked kiss from Logan is all it takes.
Thrown together by deceptions and peril, the spy from the wrong end of London and the lady who can never be his fall head over heels into an impassioned affair. But as carefully guarded secrets unravel and deadly enemies hunt them both, they must fight to keep a love that's worth sacrificing everything.