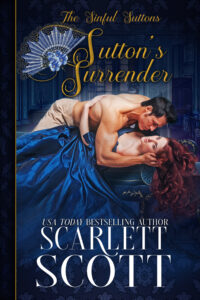 A perfectly proper duke's heir and a fiercely loyal East End lady clash in this steamy Regency romp from USA Today bestselling author Scarlett Scott.
With his impeccable reputation and undeniable good looks, Garrick Weir, Viscount Lindsey, heir to the Duke of Dryden, has earned his place at the apex of fashionable London society. Every lady on the marriage mart wants him as her prize, and every young fop wants to be him. When his foolish younger brother declares his intention to marry a devious East End fortune hunter, Garrick is appalled. He vows to do everything in his power to stop the mésalliance from occurring.
Penelope Sutton has long considered Lord Aidan Weir her unlikely friend. But when he decides he wants to marry her to anger his father and condescending brother, she refuses to take part in his schemes. She would have told the arrogant Lord Lindsey as much had he not attempted to bribe her. And she most definitely would have informed him he should take his blunt back to Mayfair where it, and he, belongs…had he not kissed her.
Torn between a confounding attraction to Miss Sutton and the desire to make certain she stays far, far away from his brother, Garrick must prove she is every bit the title-hungry fortune seeker he believes her to be. Pen is equally determined to show the viscount how very wrong he is about her. But when their battle leads to much higher stakes than pride, everything changes for the rigidly proper lord and the rookeries-born lady.