You've been waiting for it. The next Notorious Ladies of London book is here!
Lady Helena Davenport is on a mission to escape the unwanted marriage her father is trying to foist on her. Marry a condescending churl who doesn't believe women should have the right to vote? No thank you. Helena will do everything she can to avoid it. But just how far will she go, when she must choose between the man she secretly loves and her future?
Find out in Lady Reckless, FREE in Kindle Unlimited or available in ebook and paperback!
And stay tuned for more of The Wicked Winters. Because 'tis the season to be wicked…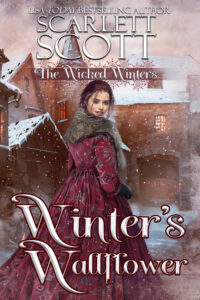 He's the lord of London's underworld. She's the lady who deceived him. And now, there will be hell to pay…
Dominic Winter rules his empire with cutthroat determination, his heart as cold and dead as the January ground. Debts must be paid. Men must be loyal. Anyone who defies him will suffer the consequences, including the indolent aristocrats who frequent his establishments.
When a beauty boldly ventures into his lair and strikes a bargain with him to save an unworthy lord, Dom is captivated. Though his instincts tell him she cannot be trusted, soon, he will do anything to make her his. Until she disappears.
Desperate to save her beloved brother from ruin—or worse—at the hands of the despicable Mr. Winter, Lady Adele Saltisford offers herself in exchange. But one night of unexpected passion leaves her with dire consequences. Torn between her dangerous attraction to Dom and loyalty to her family, Adele flees London.
It doesn't take Dom long to discover the depth of her betrayal and give chase. This time, nothing and no one will stop him from claiming her. It's crime lord versus duke's daughter in a battle of the heart.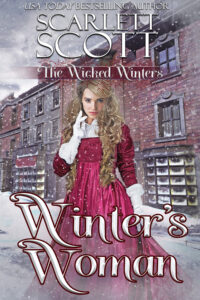 The reigning toast of the Season, Lady Evangeline Saltisford is betrothed to the most eligible bachelor in London and a scant few weeks from having everything she has ever wanted. Until danger comes calling, and she is forced to accept aid from a decidedly unlikely—and infuriating—source.
Devil Winter is the illegitimate offspring of a wealthy merchant and a prostitute. He detests fancy aristocrats and has no patience for a cosseted duke's daughter. But he will do anything for his family, and when his older brother asks Devil to play bodyguard to Lady Evie, he has no choice but to accept the loathsome task.
Evie wants nothing to do with the boorish man from the rookeries who favors growls and glowers to polite manners. She is perfectly happy with her handsome, aristocratic fiancé. At least, that is what she tells herself. Until her gruff protector reveals a side she never imagined existed. A side she finds increasingly difficult to resist.
Devil is determined to eliminate the threat to Evie and cull her from his life. But being forced to remain by her side proves not so loathsome a duty after all. And before long, protecting the stunningly gorgeous duke's daughter is only the beginning of what Devil wants to do…