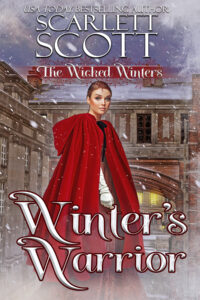 Don't miss 𝐭𝐡𝐞 𝐜𝐨𝐧𝐜𝐥𝐮𝐬𝐢𝐨𝐧 𝐭𝐨 𝐓𝐡𝐞 𝐖𝐢𝐜𝐤𝐞𝐝 𝐖𝐢𝐧𝐭𝐞𝐫𝐬 series!
Winter's Warrior is here! A 𝐩𝐫𝐢𝐳𝐞𝐟𝐢𝐠𝐡𝐭𝐞𝐫 𝐰𝐢𝐭𝐡 𝐚𝐦𝐧𝐞𝐬𝐢𝐚 falls in love with the healer who nurses him back to health. But 𝐰𝐢𝐥𝐥 𝐡𝐞𝐫 𝐬𝐞𝐜𝐫𝐞𝐭𝐬 𝐭𝐞𝐚𝐫 𝐭𝐡𝐞𝐦 𝐚𝐩𝐚𝐫𝐭 when he discovers who she truly is? Grab your copy here to find out!
I've loved every moment of writing The Wicked Winters series. When the character of Devereaux Winter and his sisters first popped into my mind, I had no idea I'd spend the next two years in their world, writing books that have come to mean so much to me. It's goodbye for now to the Winters, but they're going out with a bang (maybe literally) and the good news is, I'll be writing a spin-off series called The Sinful Suttons. You'll find a sneak peek at Jasper and Octavia's story, Sutton's Spinster, at the conclusion of Winter's Warrior, so don't forget to check it out!
I often hear from readers who have questions about my ongoing series, so I thought I'd take a moment to answer some of the most popular here…
Will Lottie and the Duke of Brandon (from Her Virtuous Viscount) be getting a book? Yes! And it will be the start of a new series that I'm also super excited about. More on that later.
Will Torrington (from Duke of Debauchery) be getting a book? Also yes! Hopefully in late 2021.
Will the Duke of Northwich be getting a book? Oh, you know it. Look for Northwich's story in Book 6 of Notorious Ladies of London, releasing in July.
Will you be writing more Winter books? I hope to, but Winter's Warrior will be the last in the series this year.
That's all from me for now. Happy reading, and don't forget to nab your free copy of Wicked in Winter while it lasts (through 4/10).
XO,
Scarlett