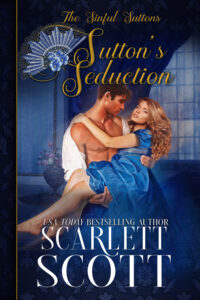 A ruthless East End rogue collides with a lady he has vowed to ruin in this wickedly steamy Regency romance from USA Today bestselling author Scarlett Scott.

Lady Emma Morgan is desperate. After her father's gambling debts leave her family in penury, she settles upon the only solution to preserving her younger sister's chance for future happiness. Already deemed unmarriageable from a scandal in her first season, Emma will sell herself to the highest bidder.

Hart Sutton is a merciless rogue who trades in the darkest secrets of polite London society. When he learns of a possible connection between the Earl of Haldringham and his missing brother, Hart puts a plan into motion to ruin the man. He buys the earl's eldest daughter's innocence on the auction block with every intention of destroying her, too.

He never supposed Lady Emma would stir him in a way no woman has before or that he would be thoroughly smitten by her intelligence and loyalty. Much to her surprise, Emma is developing feelings for the gruff, fierce man who takes her under his wing. But with each passing day, the looming truth threatens both their happiness and their carefully shielded hearts.