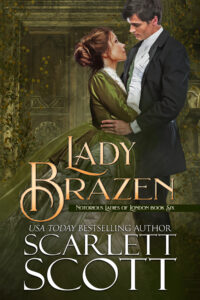 Lady Philippa Shaw had it all: a husband who was madly in love with her, a sweet baby daughter, and a house in the most exclusive square in London. Until a shocking discovery after her husband's death revealed her happy life was a lie. Now, his past crimes are returning to haunt her, bringing danger, devastation, and the one man she's spent the past few years despising.
Roland, the Duke of Northwich, never recovered from losing Pippa to the cunning scoundrel she married instead of him. When he began investigating the murky business dealings of her dead husband, however, he never intended to cause Pippa harm. Their clash is instant, her enmity for him shattering. As the shadowy menace of her husband's sins emerges, Northwich offers his protection in the only way he knows how.
Pippa has no intention of binding herself to the duke in a marriage of convenience. But after an incident makes the threat to herself and her daughter undeniable, she reluctantly accepts his proposal. She finds herself struggling to reconcile the cold, ruthless man she believed Northwich to be with the caring, considerate man she's married.
As they work together to discover who is behind the attacks on her, the secrets of the past are unlocked. And the most shocking one of all lies in her new husband's heart.