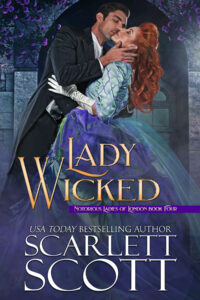 One reckless moment was all it required for Lady Julianna Somerset to lose her innocence to her best friend's brother. But when he broke her heart, she fled London to heal her wounded pride. A desperate change in circumstance has forced her to return. And in a cruel twist of fate, the man who ruined her may be the only one who can save her.
Sidney, Lord Shelbourne has always wanted one woman at his side and in his bed. The only problem? She refused his proposal of marriage and disappeared from his life. He's resigned himself to a life of duty when her arrival in London rekindles old, dangerous flames.
Sidney has not forgiven Julianna for spurning him or for the shocking secret she has been keeping. Now that she needs his aid, he has a plan. Revenge will be his, and so will she. But Julianna is determined to protect herself against the handsome lord she never stopped desiring. This time, she has vowed she will be the one to force his surrender.