Uncategorized
🔥🔥🔥❤️Hot new summer and fall releases on their way!❤️🔥🔥🔥
June is almost here, and I've got some super exciting news to share! New releases are coming up, along with pre-orders for fall and a special collection you won't want to miss!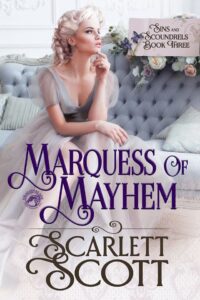 I'm putting the finishing touches on MARQUESS OF MAYHEM, Book 3 in the Sins and Scoundrels series, and this love story is super steamy. It's got a scarred hero hellbent upon revenge and a spinster heroine who steals his heart. Did I mention the scene with the strawberries? Ahem. You won't want to miss it, I promise. It's coming soon from Dragonblade Publishing, and I'll be sure to let you know when I have an official release date!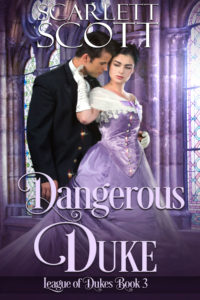 On July 2, the League of Dukes series is heating back up again, this time with DANGEROUS DUKE. Why do you need this book in your life? It's got a sexy duke suspected of treason, a quirky, crocheting heroine who always wears purple, and a scene that will make certain you never look at a staircase the same way again! And, did I mention it's releasing in ebook, paperback, and audio all on the same day? Yup, that's right.
But that's not all! I'm collaborating with a dream team of historical romance authors in The Midnight Hour: All Hallows' Brides. In Marquess of Mayhem, you'll meet the mysterious Lady Sarah, who's on a mission to avenge her sister's death. And her story just happens to be in this collection! Have you pre-ordered yet? It's just 99 cents…
When doors creak and ghostly whispers are heard in the midnight hour, this stunning collection of Gothic Regency Historical Romance is sure to leave you breathless with Poe-inspired, romantic dreams.
Amazon: https://amzn.to/2VPu2LM
Nook: http://bit.ly/2WuiUBf
Apple: https://apple.co/2PShkGX
Kobo: http://bit.ly/302rY2d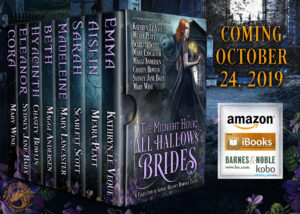 Plus, Book 4 in the League of Dukes series, SHAMELESS DUKE, is on its way! This is the tale of a feisty lady Pinkerton detective and a duke who doesn't believe in love. They're complete opposites, they drive each other to distraction, and when they clash, the sparks are instant, and HOT. I can't wait for you to meet Lucien and Hazel!