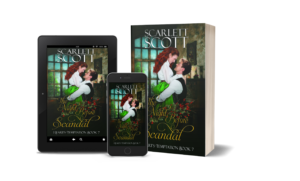 Lord Harry and Lady Alexandra are back and better than ever in my re-release of The Night Before Scandal, a sizzling holiday-themed novella and Book Seven in the Heart's Temptation series. You may remember Lord Harry from Darling Duke as the lovelorn suitor of Lady Boadicea Harrington. When he returns home for a Christmas house party, he has no idea what is in store for him. There's a science-minded lady who is about to take his world by storm.
Although The Night Before Scandal previously appeared in the limited time collection Seduced Under the Mistletoe, this latest release contains bonus scenes never before published. Plus, it's just 99 cents for a limited time and free in Kindle Unlimited.
As a release week bonus, the first book in this series, A Mad Passion, is also on sale for a limited time for just 99 pennies worldwide! If you like second chance romance and steamy historical romance, now's your chance to snag a copy.