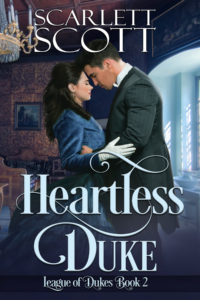 It's release day for Book Two in the League of Dukes series, and I'm celebrating with a fabulous party in my reader group featuring giveaways galore and a FREE BOOK for everyone!
I hope you have room on your e-reader for Leo, the Duke of Carlisle and Bridget, the fiery Irish rebel who steals his heart!*
Reasons why you should read Heartless Duke:
1) You need a sexy, brooding duke in your life.
2) The bathtub scene.
3) You've been dying for the Duke of Carlisle to lose his heart.
4) Kick-ass heroines are your cup of tea.
5) Scorching bedchamber shenanigans.
Have I convinced you yet? Here's the blurb…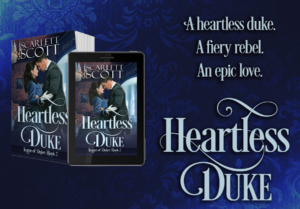 He's a heartless cad. A relentless rake. Dangerous to know. As cruel as can be.
He's the Duke of Carlisle, leader of a secret branch of the Home Office charged with keeping the peace amidst great peril and upheaval. By day, he hunts anarchists and murderers with savage intensity. By night, he rules over London's darkest, most depraved souls.
But he's about to meet his match in his latest prisoner.
She's a strong, independent woman. Fearless and determined. Unlike any lady he's ever known. As unfettered and plucky as can be.
She's Bridget O'Malley, a trusted member of the underground organization to gain Irish independence. By day, she is a respectable young woman of modest means, attempting to make her way in the world through honest employment. By night, she is embroiled in a world so treacherous and dangerous that even she finds her own life at risk. To save herself, she will commit any sin.
When the heartless duke and the fiery rebel clash in a fierce battle of wills, unexpected passions flare to life. Threats lurk at every turn, and no one is as they seem. Will they be each other's ruin? Or is love enough to become their salvation?
(*Note to my paperback lovers: This WILL release in paperback, but production delays in the paperback version of the cover mean it won't be available immediately. Bonus: it's coming to audio April 30th!)