Uncategorized
🖤🖤🖤The Midnight Hour: All Hallows' Brides is HERE!🖤🖤🖤
The next installment of the Sins and Scoundrels series is here!
The Midnight Hour: All Hallows' Brides is a special, limited Gothic Regency collection and each novella within is based on an Edgar Allen Poe story or poem. My contribution is Sarah, which is part of the Sins and Scoundrels series. Lady Sarah first appeared in Marquess of Mayhem, and now she's back, determined to get her vengeance on the man she once loved. But is he truly guilty?
For my Poe inspiration, I chose "The Masque of the Read Death." Of course, my story is a whole lot more romantic than Poe's! It was great fun to write, and it contains guest appearances from Duncan and Frederica (Prince of Persuasion) and the Duke of Montrose. (And in case you've been wondering, you'll get a whole lot more Monty in Earl of Every Sin, coming soon, and he'll get his own book in Duke of Debauchery!)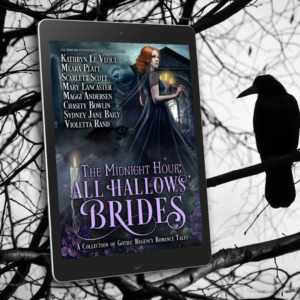 This collection is available wide for only 99 cents for a limited time, so do get it while you can. (And did I mention it contains stories from the fabulous Kathryn Le Veque, Meara Platt, Mary Lancaster, Maggi Andersen, Chasity Bowlin, Sidney Jane Baily, and Violetta Rand?!) Here is a special excerpt from Sarah:
There was only one manner in which he could fathom dashing away all the bitterness and betrayal keeping them apart. He drew her body flush against his, the fullness of her breasts crushed into his chest, the lush curves of her hips and belly melting into him. And then, his mouth took hers.
The kiss was meant to be soothing, but from the instant his lips touched hers, need and yearning crashed over him. He could not control himself. It had been two endless years since he had last felt her responding so sweetly.
This kiss was more than the physical. His tongue slid inside the velvet heat of her mouth. She tasted more delicious than the finest confection, like sin and Sarah and punch, and he wanted to kiss her forever. To take her in his arms and carry her all the way to his chamber. He wanted to wed her, to bed her, to love her.
But he would settle now for the paradise of her in his arms, the mewl of surrender tearing from her. Her arms swept around his neck, holding him to her rather than pushing him away. Her tongue touched his. Hunger fired through his blood. Desire made his cock twitch to life in his breeches.
It had been so long. So damned long.
Their reunion was bittersweet. Bitter because he knew she remained torn by what she believed of him. Sweet because there was nothing better than Sarah in his arms, kissing him back with the same voracious hunger he felt for her, even if she did not dare trust or believe in him.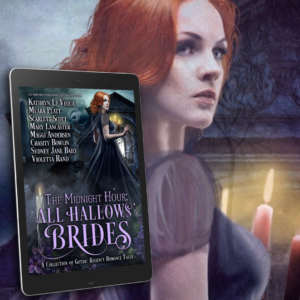 Want more? You know where to find it!
Amazon: https://amzn.to/2VPu2LM
Nook: http://bit.ly/2WuiUBf
Apple: https://apple.co/2PShkGX
Kobo: http://bit.ly/302rY2d