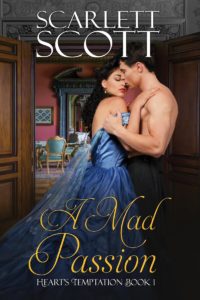 A lost love
Seven years ago, the Marquis of Thornton broke Cleo's heart, and she hasn't forgotten or forgiven him. But when she finds him standing before her at a country house party, as devastatingly handsome as ever, old temptations prove difficult to resist. One stolen kiss is all it takes.
A proper gentleman
Thornton buried his past and his feelings for Cleo long ago. He's worked diligently to become a respected politician with a reputation above reproach. The only trouble in his otherwise perfect life is that he can't resist the maddening beauty he never stopped wanting, no matter how devastating the cost.
A mad passion
Cleo is hopelessly trapped in a loveless marriage, and Thornton is on the cusp of making an advantageous match to further his political ambitions. The more time they spend in each other's arms, the more they court scandal and ruin. Theirs is a love that was never meant to be. Or is it?