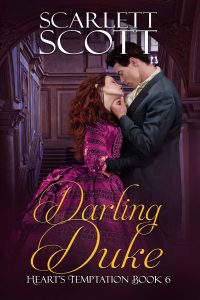 An untamable hellion
Lady Boadicea Harrington is a scandal waiting to happen. She's too outspoken, too opinionated, and far too much of a flirt to ever land a good match.
But that doesn't concern her. The last of her sisters on the marriage mart, she isn't about to settle down. In fact, she doesn't plan to marry at all. If only she could tone down her wild streak and force herself to behave…
A rigidly proper man
The Duke of Bainbridge is one of the most powerful men in England, so frigid that it's rumored his own wife committed suicide to escape him.
When Spencer learns his madcap younger brother is pursuing the unsuitable Lady Boadicea, he's determined to put an end to their ill-advised flirtation. But his best intentions go awry when he discovers his own baffling inability to resist her.
Ice meets fire
Spencer never meant to so thoroughly compromise Lady Bo that he's duty-bound to wed her. Bo certainly never intended to enjoy being in his arms or to find him so wickedly tempting.
Can her passionate fire prove enough to melt his icy heart, or are they forever doomed to a cold marriage of convenience?