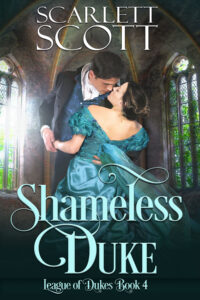 She thinks he's arrogant. He thinks she's vexing. The sparks are about to fly in the next installment of the bestselling League of Dukes series…
Lucien, Duke of Arden, is on the brink of disaster, about to lose everything he worked so hard to attain as the leader of the Special League. When Home Office obliges him to join forces with a Pinkerton agent to keep his position, he is determined to send the fellow back to American shores faster than he can say "Yankee Doodle." There's just one small problem with his flawless plan to undermine the unwanted agent…

Hazel Montgomery has spent the last ten years as a Pinkerton detective, fighting to be treated as an equal to her male counterparts, and the list of her successful cases is as long as the Mississippi River. She is not about to allow a supercilious duke to condescend to her. If Arden does not want her assistance, he can take his arrogance and go back to his fancy drawing room where he belongs.

Their clash is as instant as it is inevitable. When a fresh wave of bombings hits London and the danger intensifies, Lucien and Hazel must work together to bring a new ring of Fenians to justice. The more time they spend in each other's company, the more the underlying attraction between them sizzles, until it bursts into uncontrollable flames.

Haunted by past tragedy, Lucien vowed long ago never to fall in love. Hazel's sole rule in life is to trust no one. But soon, the cold duke and the bold American find themselves locked in a battle for the greatest prize of all, each other's hearts.