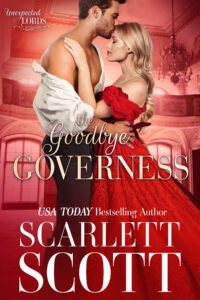 Oliver "Knight" Knightly, newly inherited Earl of Stoneleigh, has been summoned home to England after the sudden death of his brother. However, he has no intention of allowing familial obligations to keep him from the life he made for himself as a champion bareknuckle boxer in America. He will see his wayward nieces settled with a capable governess and return to the fame, fortune, and adoring ladies awaiting him.
Proudly unconventional, Lady Corliss Collingwood plans to establish herself as an author, travel the world, and do whatever pleases her in the moment. What better way to research her novel-in-progress than by posing as a governess? Overseeing a few young ladies can hardly be too difficult a challenge. Can it?
Unfortunately for Corliss, it can. Especially when the ladies in question prove to be wild hellions, and their uncle is the most handsome, tempting, arrogant, vexing man she's ever met. Neither Corliss nor Knight can afford to surrender to the irresistible attraction sparking between them. But that doesn't stop them from finding their way into each other's arms. And before long, into each other's hearts…
Pre-order Now Here!