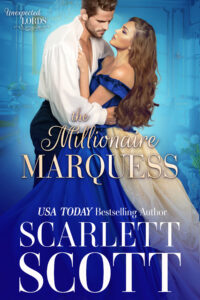 A daring housekeeper meets her match in a sinfully seductive marquess in this scorching-hot addition to the Unexpected Lords series from USA Today bestselling author Scarlett Scott.

Ruthless businessman. Coldhearted cynic. Jaded rake.

The Marquess of Greymoor has possessed a great many titles in his life, but there is none he despises more than the one he unexpectedly inherited as a lad. Call him what you like, Grey has never fit the societal mold. Instead, he is unabashedly determined to live by his own set of rules. Which is why, when a mysterious and lovely housekeeper attracts his attention, he makes her the offer of a lifetime: one month of sin with him in return for a tidy fortune.

Secretly scandalous. Mysterious wallflower. Anything but a lady.

A dark past has ensured that Francesca Marsden is no stranger to secrets, lies, and living life from one moment to the next. While masquerading as the widowed Mrs. Beasley helped her to become housekeeper at a derelict country estate, she never expected to be noticed. She most definitely did not anticipate a dashing marquess making her a proposition she can't afford to refuse.

When Grey has his enigmatic housekeeper exactly where he wants her, the passion burning between them is beyond his wildest imaginings. Despite his best intentions, his icy heart begins to melt for the spitfire he has taken under his wing. But Francesca promised one month only, and that is all she can give, even as her feelings for Grey grow. With her secrets bringing danger and ruin alarmingly near, she has to make a painful choice. But now that he has found her, Grey isn't about to let her go. He'll fight to protect the woman he loves.

Even if it means he has to save her from herself.