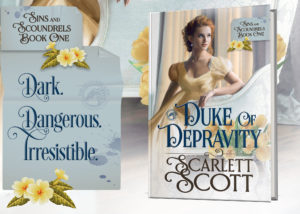 It's release day for Duke of Depravity! You can read free in Kindle Unlimited or get your copy for just 99 cents!
Here's one more teaser:
"Your Grace?" Her voice, tentative, interrupted the wicked vein of his thoughts.
"Hmm?" Rudely, he wiped the back of his hand across his wet mouth, removing all traces of liquor before he lowered the bottle to the table and focused upon the governess once more, only to realize he had once again forgotten her bloody name. Turncrow? Tornstow? Devil take it, he didn't know.
But her eyes… Lord God, he could see them now at this proximity, and they were extraordinary. Warm, sherry-brown with golden flecks and framed by long, thick lashes. This woman looked more like a mistress than a governess.
She looked, in a word, beddable.
Would it be wrong to pin her to the desk, ravage her mouth until she was breathless, and then raise her skirts to her waist? Could he take the prospective governess? Was he that depraved? The longer he stared at her lush mouth—currently flattened into a peevish line that did nothing to distract from his desire to claim it—the more the idea of debauching her consumed him.
Well, what are you waiting for? One click here!