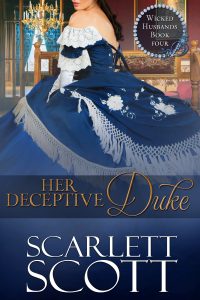 Her Deceptive Duke is live! In the mood for a surly, sexy duke and some adorable kittens? You're in luck! Read it FREE in Kindle Unlimited or grab your copy today! Read on for an excerpt…
"Georgiana."
Her name in his dark, deliciously deep voice dismissed any other thoughts. Even her sweet animals slid into the recesses of her mind, replaced by…
Him.
Her gaze snapped to his, trapped. "Yes?"
"You are the most ridiculous, nonsensical, vexing woman and…"
Of course he found her to be so. No surprise there. He was overbearing, arrogant, cool, and aloof, so she supposed that made them an opposite pair. "And," she prompted when he allowed his string of insults to trail off.
"And I want to kiss you, damn it." His frank announcement shocked her.
Against her will, pleased her.
She stared back at him, without even so much as a blink. Longing surged inside her. A frisson of something decidedly wicked trilled down her spine. She ought to say something. Anything. Deny him. Shoot to her feet and fly across the morning room, far from his tempting reach.
But Georgiana did not move. Did not say a word. Did not do anything except wait until, at long last, the man she called husband laid his lips to hers for the first time.
Get it here, and until next time, don't behave!
XO,
Scarlett