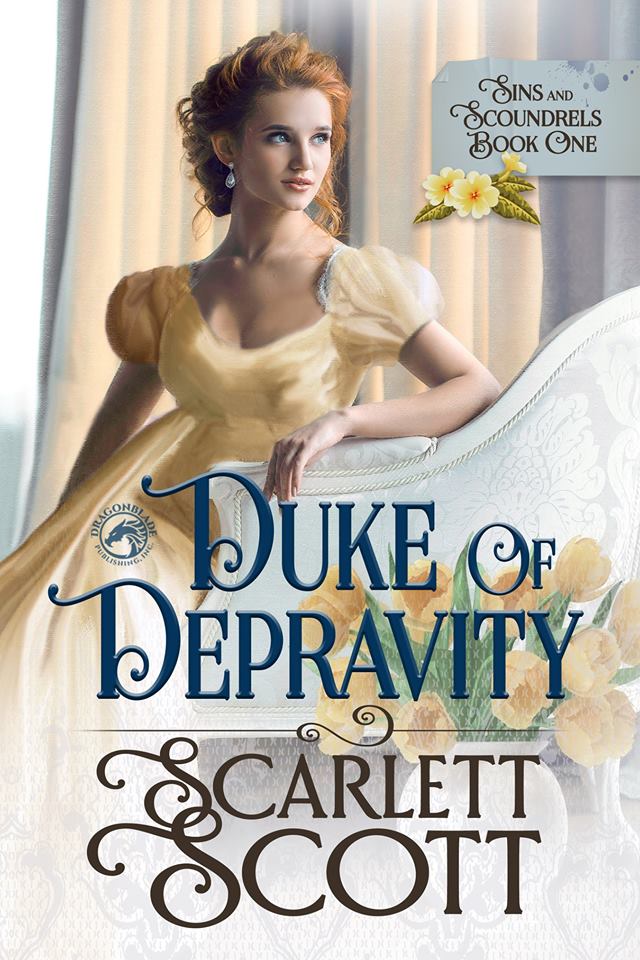 A duke with demons and the governess whose secrets could either be his salvation or his ruin…
Get ready for the first book in my new Regency historical romance series from Dragonblade Publishing! The Duke of Depravity will be steaming up e-readers on December 14th, and you can pre-order your copy here for just 99 cents.
Meet Crispin Ashforth, Duke of Whitley. Handsome. Damaged. Haunted by his years as a soldier and the death of his best friend. Known as the Duke of Depravity for good reason. His brother's death has left him with two hoyden sisters to manage and a host of other responsibilities, but all he wants to do is bury himself in drink and women.
Enter Jacinda Turnbow, the new governess. He can't stop wanting her no matter how wrong it is, but she isn't everything she seems. To save herself and her father from ruin, she must find evidence that will destroy him. But the more time she spends in his seductive presence, the harder it is for her to betray him…
Duke of Depravity brings all the angst and the passion plus a dash of mystery, and I can't wait for you to read it! Did I mention it also contains orange cheesecakes, inappropriate kisses, a sexy gaming hell owner, ciphers, AND some depravity of the very best kind? Yes, yes it does.
Now how about an excerpt to get you ready for December 14th?
"I will release you when you answer my bloody question, Miss Governess. What in the name of all that is holy were you doing in my study?"
His guttural demand was perhaps what she should have expected. "Forgive me for my ignorance, Your Grace, but in the darkness, I thought I had entered the library."
His face lowered, his beard-roughened cheek abrading hers. His nose and mouth pressed against her throat. "I do not care for your excuses, Governess."
Frustration boiled to the surface within her. "Respectfully, the truth is not an excuse, Your Grace."
His body stiffened. "You dare to gainsay me, Miss Turnbellow?"
Why could no one in his cursed family seem to be capable of recalling her surname? She ground her teeth. "Turnbow, Your Grace."
"What of a bow, now, Miss Governess?" He dragged his nose over the cord of her throat, inhaling deeply.
Jacinda swallowed. Something about this beast-of-a-man, so jaded and wounded, so thoroughly depraved he was not above tackling his new governess and taking liberties with her in the dark, this beautiful man—he affected her in a way she could not like. In a way she could not allow.
She gritted her teeth and writhed against him. "Miss. Turnbow."
"Miss Turnbow?" he asked, his voice thick, low, and intimate as her movements achieved the opposite of her intended effect. His body settled more firmly atop hers, her thighs opening wider to cradle him through the thin muslin of her gown. Her breasts brushed against his chest with each movement, eliciting a spark of sensation.
His lips grazed her neck, banishing all thoughts. She could not suppress her shiver. Being beneath him thus, at his mercy, did not concern her as much as it ought. Rather, it intrigued her. Brought her to life in a most sinful and unwanted fashion. No fear coursed through her. Only reckless, heady need, the likes of which she had not felt in years.
Wanting him was wrong, Jacinda reminded herself. Impossible.
"Miss Turnbow is my name, Your Grace. I was merely reminding you," she said softly, hating the breathlessness that had leaked into her voice.
"Ah, how helpful of you, Governess." His mouth found a particularly vulnerable swath of skin. His lips opened, his tongue darting against her for a brief, mesmerizing moment. "Thank you."
He dragged his lips lower, to the space where her neck and shoulder met.
Want more? One-click here! I'll be back with more excerpts soon. And don't forget that Nobody's Duke, Clay and Ara's story, is also coming soon. Pre-order that one right here, and until next time, don't behave!
XO,
Scarlett