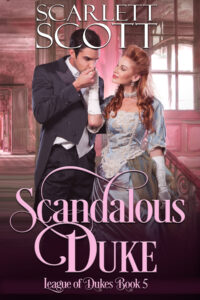 Felix Markham, Duke of Winchelsea, has devoted his life to being the perfect statesman and raising his daughter after his beloved wife's death. But when devastating bombings on the railway leave London in an uproar, he is determined to bring the mastermind of the attacks to justice. He will lure the fox from his den by any means.
In her youth, Johanna McKenna donned a French accent and stage name to escape the clutches of her violent father and became the darling of the New York City stage as Rose Beaumont. Her past comes calling when her brother's reappearance in her life leads her into a dangerous web of deceit. She finds herself hopelessly trapped until she receives an offer she cannot refuse from London's most famous theater.
Felix's plan is clear: bring the famed Rose of New York to London, secure her as his mistress, and drive his quarry to English shores. But the more time he spends in Johanna's company, the more he realizes nothing is as it seems, least of all the woman who feels as if she were made to be in his arms. When he finally learns the truth, it may be too late to save both his city and the enigmatic lady who has stolen his heart.