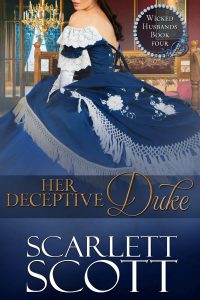 Georgiana, Duchess of Leeds, hasn't seen her husband since he left her on their wedding day for an extended hunting expedition and never returned. But she isn't the sort to wait around pining for an arrogant oaf who can't bother to recall he has a wife, no matter how sinfully handsome he may be.
She finds all the fulfillment she requires in caring for the stray cats and dogs of London's streets. Until, that is, the duke returns, and she uncovers the truth about where he's been…
Kit, Duke of Leeds, never wanted to be duke. He was perfectly content with his life as one of Her Majesty's most dedicated spies until his brother's unexpected demise left him forced to marry an American heiress to save the family estate from ruin. The day he married her, he left for a secret assignment in America, with no intention of returning.
Seriously wounded and his cover ruined, Kit's forced back to London where he finds a townhouse brimming with creatures and a wife who can't bear the sight of him.
With husband and wife beneath the same roof at last, their marriage of convenience sparks into a passion that's as undeniable as it is unexpected. But is desire enough to bring two wary hearts together? And once Kit's wounds are healed, will Georgiana's love be enough to make him stay?