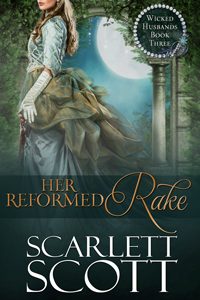 She refuses to behave
American heiress Daisy Vanreid has no choice but to entrap the notorious Duke of Trent to avoid marriage to the aging aristocrat her abusive father chose for her. Or so she thinks. But once she becomes Trent's duchess and loses her heart to him, he disappears. Now, she's on a mission to stir up enough scandal to force his return.
He refuses to be chained
An elite spy, Sebastian, the Duke of Trent, is on a mission of a different variety, attempting to unravel bomb plots in England's cities. He married Daisy out of necessity, and he never intended to fall in love with a woman suspected of treason. When duty takes him from her side, his wild, trousers-wearing wife creates the sort of distraction he can't afford.
Love is the most perilous risk of all
Together, they become locked in a battle of passion and wits that they can only survive by trusting each other. As danger strikes, Daisy is swept into Sebastian's world of intrigue and straight into his arms. But will their love be enough?