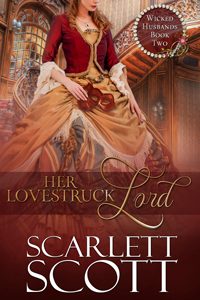 View on Amazon.com
She married him for his title…
Maggie, Marchioness of Sandhurst, is trapped in a loveless marriage of convenience. Her husband refused to consummate their union, and she hasn't seen him in over a year. But she has a plan to win back her freedom. All she needs to do is create the scandal of the century.
He married her for her fortune…
Simon, the Marquis of Sandhurst, vowed he'd never touch the wife he didn't want. When he seeks pleasure in the arms of a masked siren at a wicked country house party, he's shocked to discover the woman in question is actually his marchioness.
Will their marriage of convenience become a love match?
As the truth unravels, husband and wife are estranged no longer, spending their days and nights exploring the desire burning hot between them. But when Simon's past comes back to haunt them both, their newfound happiness could be forever dashed.