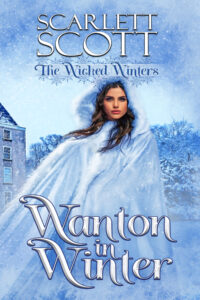 A desperate earl…
Cameron Blythe, the Earl of Hertford, is about to lose nearly everything he owns to creditors in the wake of his blackguard father's death. The only way to stave off ruin is to find a wealthy wife, even if it means aligning himself with one of the infamous Winter sisters. Any of the chits will do. Except for Miss Eugenia Winter, that is, whose reputation has been tainted by scurrilous gossip.
A defiant lady…
When Eugie spurned an odious, fortune-hunting suitor, the last thing she expected was for him to spread shocking lies about her. Determined to stop her beloved sisters from falling prey to a similar, painful fate, she will do anything to keep the penniless Earl of Hertford from making a match with one of them. Even if it means cornering him in a darkened winter's garden and kissing him herself.
A passion they can't resist…
But when one kiss turns into another, and then another, the strictly proper Cam cannot help himself from falling for the Winter with the most wicked reputation of all. And Eugie? Much to her dismay, she's discovering the irresistible earl may be everything she has ever wanted. Does she dare trust her heart, or will the painful lessons of her past prove too impossible to overcome?