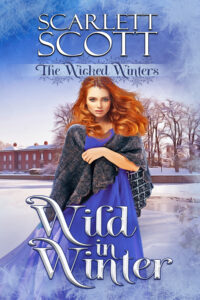 Gill, the Duke of Coventry, has never been the sort of gentleman who woos ladies with effortless ease. In fact, he's never even kissed a woman, let alone courted one. But as the new duke, he's in need of a wealthy bride to replenish his dwindling familial coffers. Preferably a sweet, calm bride who is equally reserved. A bride who is nothing at all like Miss Christabella Winter.

Christabella is looking for passion. She longs for forbidden kisses in hidden alcoves, for a dashing rake to sweep her off her feet. Therefore, her dratted infatuation with the shy Duke of Coventry makes no sense. Particularly since he cannot be bothered to speak to her in complete sentences.

When she inadvertently learns the duke has never been kissed, however, Christabella forms the perfect plan. She can show him how to win a lady's heart and kiss him out of her system at the same time. But the problem with kisses is they often lead to something more, and soon, the only heart she wants him to win is hers.