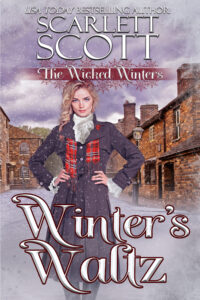 The Marquess of Sundenbury needs to stay out of trouble. Genevieve Winter needs a favor. What could go wrong? Only everything…
Sundenbury has a gambling problem. Genevieve has a Sundenbury problem. Namely, she has been tasked with keeping an eye on the scandalous lord. Gen has plans to open a ladies' gaming establishment, and while she's saddled with London's biggest ne'er do well, he has to make himself useful. In exchange for her aid, the marquess must help her gain the ladylike polish she requires to lure in her lucrative clientele.
Max, Marquess of Sundenbury, is the undisputed black sheep of his family. With his gambling debts mounting and a ducal father who has cut off the purse strings, he needs to reform his reputation and find a wealthy bride. His plan? Take a month away from society, give the wagging tongues time to settle down, then re-emerge a changed man, and all that folderol.
But he never bargained for the hellion in breeches who amazes him with her sharp wit, sharper tongue, and undeniable beauty. Gen wants nothing to do with a handsome scoundrel like Max, no matter how sinful his kisses or tempting his embrace. An independent lady gaming hell owner and a penniless lord who can't stay away from the hazard table could not be more wrong for each other.
Or mayhap, just mayhap, they could not be more right.