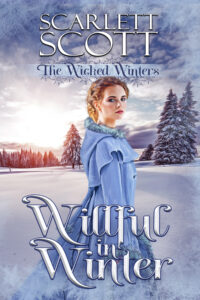 Rand, Viscount Aylesford, needs a fiancée, and he needs one now. His requirements are concise: she must not embarrass him, and she must understand he has no intention of ever marrying her.
Miss Grace Winter is the most stubborn of the notorious Wicked Winters. When her brother decrees she must marry well, she is every bit as determined to avoid becoming a nobleman's wife. She would never marry a lord, especially not one as arrogant and insufferable as Aylesford.
But pretending is another matter entirely. She has to admit the viscount's idea of a feigned betrothal between them would not be without its merits. Until Aylesford kisses her, and to her dismay, she likes it.
Soon, their mutually beneficial pretense blossoms into something far more dangerous to both their hearts…