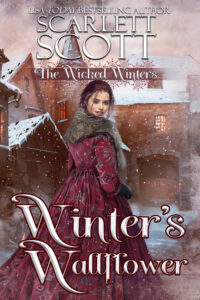 He's the lord of London's underworld. She's the lady who deceived him. And now, there will be hell to pay…
Dominic Winter rules his empire with cutthroat determination, his heart as cold and dead as the January ground. Debts must be paid. Men must be loyal. Anyone who defies him will suffer the consequences, including the indolent aristocrats who frequent his establishments.
When a beauty boldly ventures into his lair and strikes a bargain with him to save an unworthy lord, Dom is captivated. Though his instincts tell him she cannot be trusted, soon, he will do anything to make her his. Until she disappears.
Desperate to save her beloved brother from ruin—or worse—at the hands of the despicable Mr. Winter, Lady Adele Saltisford offers herself in exchange. But one night of unexpected passion leaves her with dire consequences. Torn between her dangerous attraction to Dom and loyalty to her family, Adele flees London.
It doesn't take Dom long to discover the depth of her betrayal and give chase. This time, nothing and no one will stop him from claiming her. It's crime lord versus duke's daughter in a battle of the heart.