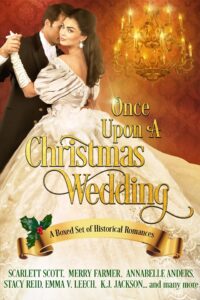 Beatrix Winter has no wish to marry any of the lords her brother has in mind for her. There is only one man she has ever desired, but as her overbearing brother's loyal right-hand man, Merrick Hart has never spared her a glance.
When the entire Winter family departs to celebrate Christmas in the country, unintentionally leaving Beatrix behind, Merrick reluctantly agrees to escort her to her brother's estate. But despite the winter's unusual cold, their journey quickly becomes heated. Beatrix is the one temptation Merrick has always managed to resist, but a man can only endure so much time alone with the woman he has been secretly longing for before he takes what he wants…
Available NOW in the special limited edition boxed set Once Upon A Christmas Wedding, featuring 27 historical romances!

HELL'S WEDDING BELLS
by Annabelle Anders
TWO LADY SCOUNDRELS AND A DUKE
by Tessa Candle
A WICKED WEDDING
by Laura Trentham
THE LADY'S GUIDE TO MISTLETOE AND MAYHEM
by Emmanuelle de Maupassant
THE RUSSIAN BETROTHAL
by Elsa Holland
THE MISTLETOE MISTRESS
by Maddison Michaels
DEEDS NOT WORDS
by Ashe Barker
HOLLY AND THE BEAST
by Annabel Joseph
THE WINTER BRIDE
by Emma V Leech
MISTLETOE KISSES
by Elise Marion
THE CHRISTMAS COUNTESS
by K.J. Jackson
MISCHIEF AND MISTLETOE
by Stacy Reid
KIDNAPPED WITH THE KNIGHT
by Emily Murdoch
THE RUSSIAN PRINCE'S BRIDE
by Mariah Stone
CHRISTMAS CHARITY
by Beverley Oakley
THE ANGEL OF AN ASTRONOMER
by Linda Rae Sande
WASSAIL, WAGERS AND WEDDINGS
by S. Cinders
HIGHLAND YULE
by Sky Purington
MARRYING MISS BRIGHT
by Dayna Quince
BEAUTIFULLY RECKLESS
by Virginia Taylor
KISS ME, MACRAE
by Amy Sandas
HOLLY AND OLD LACE
by Vanessa Brooks
HOME FOR CHRISTMAS
by Celeste Jones
A SPINSTER AT THE HIGHLAND COURT
by Celeste Barclay
THE HOLIDAY HUSSY
by Merry Farmer
DECEMBER DEBAUCHERY
by Em Brown
WEDDED IN WINTER
by Scarlett Scott