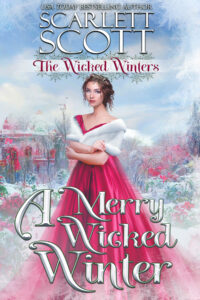 A heartwarming holiday novella featuring a long-lost Winter sister and the gruff Scot whose heart she heals…
With Christmastide approaching, Miss Sybella Clarke is traveling to a country house party being hosted by her newly discovered half brother, Devereaux Winter. She's eager to join the large family she's never met, but a snow storm and a carriage accident land her in far more trouble than she bargained for. When Sybella is left stranded at the castle of the surly, brooding Earl of Darkross, her Yuletide journey goes from cold to scorching-hot.
After the deaths of his wife and unborn child, Callum Upton, Earl of Darkross, retreated to the haven of his tumbledown estate, only emerging when duty requires. The unexpected arrival of the lovely Miss Clarke interrupts his seclusion and vexes him mightily. As soon as the snow stops and the roads are sufficiently cleared, he will carry the cheerful chit to Oxfordshire on his back if he must. Anything to be rid of her.
But as the snow continues to fly, so do the sparks between Sybella and Callum. And, much to the dismay of the man who thought himself incapable of loving again, his frigid heart begins to thaw…
With appearances from your favorite Wicked Winters!

Get your copy NOW here!