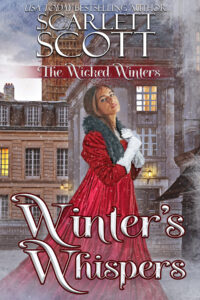 Don't miss this special addition to the bestselling The Wicked Winters series, featuring Winter family favorites and a whole lot of holiday steam!
Blade Winter is a coldhearted assassin with a deadly reputation. After a costly mistake leaves him banished to the countryside for a Christmas house party he has no wish to attend, he is furious. No amount of merrymaking is going to improve his mood. Until he crosses paths with a beautiful brunette he can never have, and suddenly, the prospect of a yuletide rusticating in Oxfordshire is not nearly as detestable…
Lady Felicity Hughes may be London's darling, but she is hiding a desperate secret. No one knows she must wed to save her family from penury, and she intends to keep it that way. But before she binds herself in a loveless marriage of convenience, she wants one night of passion. Who better to have it with than the wickedly handsome Mr. Winter?
Blade knows better than to dally with a lady who is forbidden, no matter how much she tempts him. Felicity is equally determined to get what she wants, even if there can be no future between herself and a dangerous man like Blade. She has nothing left to lose. Except her heart.
Length: Novella
Heat level: Scorching Hot