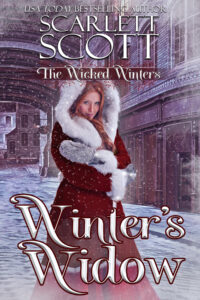 Demon Winter is an unabashed rogue. What better way to find more women to warm his bed than helping his sister Genevieve with her ladies' gaming establishment? It's the perfect arrangement. Until a duchess he can't resist walks through the doors and everything changes.
Mirabel, the widowed Duchess of Stanhope, has rigidly adhered to propriety her entire life, and all it garnered her was a miserable marriage to a cruel man. With her time of mourning over, she is on a mission to be wicked.
Fortunately, the sinfully handsome, wildly unsuitable Demon Winter has offered to aid her in her quest. He's perfect for the task. Demon is a silver-tongued rakehell ten years her junior who was born in the rookeries. There is absolutely no chance Mirabel will fall in love with him. None.
A lady who has never broken the rules is about to break every one of them. But Demon Winter? He just may break her heart.