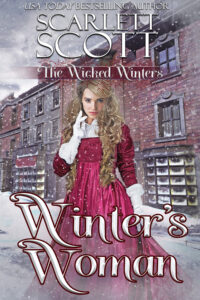 The reigning toast of the Season, Lady Evangeline Saltisford is betrothed to the most eligible bachelor in London and a scant few weeks from having everything she has ever wanted. Until danger comes calling, and she is forced to accept aid from a decidedly unlikely—and infuriating—source.
Devil Winter is the illegitimate offspring of a wealthy merchant and a prostitute. He detests fancy aristocrats and has no patience for a cosseted duke's daughter. But he will do anything for his family, and when his older brother asks Devil to play bodyguard to Lady Evie, he has no choice but to accept the loathsome task.
Evie wants nothing to do with the boorish man from the rookeries who favors growls and glowers to polite manners. She is perfectly happy with her handsome, aristocratic fiancé. At least, that is what she tells herself. Until her gruff protector reveals a side she never imagined existed. A side she finds increasingly difficult to resist.
Devil is determined to eliminate the threat to Evie and cull her from his life. But being forced to remain by her side proves not so loathsome a duty after all. And before long, protecting the stunningly gorgeous duke's daughter is only the beginning of what Devil wants to do…
Length: Novella
Heat level: Scorching hot